You ever wanted to send secret messages to your friends?
Or bored in class and DESPERATELY are trying to talk to your friend??

This is the place for you!
Yes
You can crypt your Messages so no one can read them!

OK so to start you must first choose the type of code you want to encrypt with:

Of course there are much more to come!
---
To start first write this down on a paper: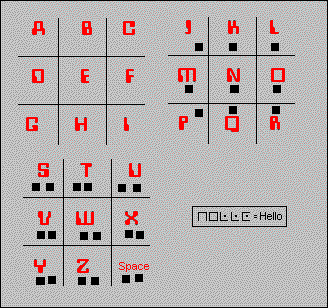 Some of you must have found out the concept?
If not then let's continue:

OK for those of you who don't understand:
Let's check out the letter A It's code is


Why? Just Check it out RIGHT and then you'll know!
OK Look at the letter A in the Picture....You'll see something like this


I don't know how to tell you.... BUT if you didn't get it then you can contact me
to ask. It is Very Simple.
And For the letter J? Easy....It's the same as A but has a DOT in it!
Same thing for S but with 2 DOTS.
Still don't get it? OK....So let's see the picture again....
Look at the letter A above
And now look at the letter A BELOW:

See? look at the yellow part and look at this:

.....
Don't they look alike?
HMMMM?
So you got it now?
Simple right?
AND FOR ANOTHER WAY TO SAY IT:
Every pattern of lines, lines and dots, or lines and 2 dots each represent
It's own letter....which is near it.

OK and now try to crack this CODE:

The answer is written and the end of the page.

top
---
OK let's check out what the Binary-Crypted code is:
To do this....You first must learn the Pig-Pen Code....
It's the one above....
OK ? You learnt it?
OK so let's learn what Binary-Crypted Code is:
OK I will first convert it. Then I will explain.
110110101010 110110101110101110111110
or
110110101010101011110110101110101110111110
They are the same thing only 101011 means space which is
OK I will Explain....I will use the first code....It's just easier.
First you divide all of the numbers by 6:
110110 101010
110110 101110 101110 111110
Ok now we will take every 6 binary codes ( or in other words 6BC )
110110: This means M
101010: This means R
110110: This means M
101110: This means O
101110: This means O
111110: This means N
I know that this is not explanatory.
So let take 110110
How can we know what letter this is?
OK look at this picture to find out: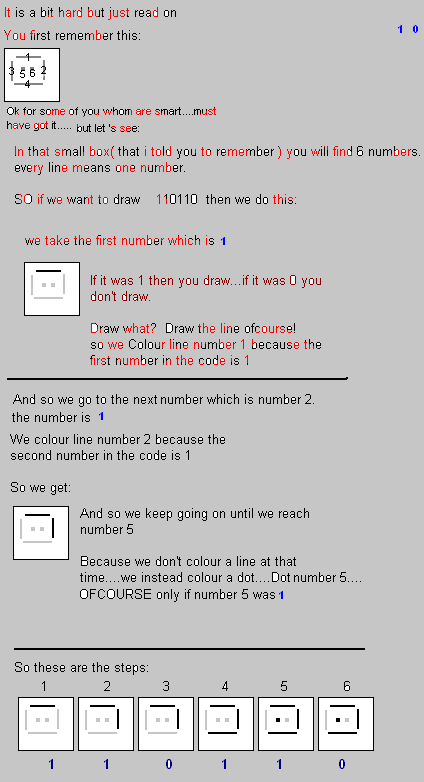 OK? I hope you got it....I mean I'm not too good in English....

Well that is not what we want....we want to convert MR MOON to binary....
So you do the same thing you did, to do the opposite thing( Look at the above
picture )
So you have the Pig-Pen Code All you have to do is convert it to binary...
Can you do it?
You must be smart enough to do it! Just Try.

OK I will explain:
If you see the above picture you will see (at the top) that I showed you a picture and
asked you to remember it.... Well we will call it Code-Pattern.
OK SO THIS IS IT:
Each numbered line on the Code-Pattern represents a line of a letter in Pig-Pen
version. Each Line and 2 dots on a letter in the Pig-Pen version represent a number from 1 to 6. From within: 1-4 as the lines....5-6 as dots.
Where EACH of 5 and 6 represent 1 dot. Therefore: 111101=111110
For Each 1-4: 1 represents the top line, 2 represents the line on the right,
3 represents the line on the left, and 4 represents the bottom line
top
---
This is a pretty easy part! It's all about scrambling letters!
SO HERE WE GO:
We have the letter:
BE CAREFUL MILKMAN IS A SPY
We want to crypt it to a secret message:
BAF MK NAYER UIMI SXCEL LAS PY
How did we do it? Let's find out:
So we have the letter. We want to crypt it.
We do this: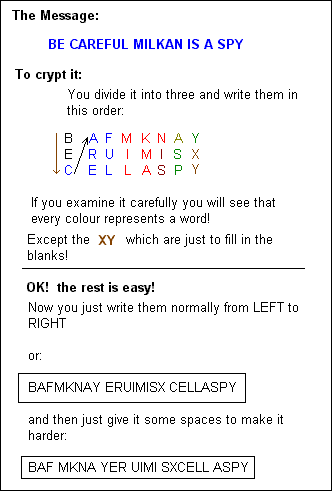 top
---
THE ANSWER OF THE PIG-PEN CODE UP THE PAGE MEANT "BALL"
< return to funstuff page